Philippine politics has yet again made a big buzz in the news and for quite some time now. Some viewers are only getting tidbits of the situation and are left confused as to what is really going on. The ordeal has actually been followed by Philippine media since August of 2007, and it all essentially revolves around the NBN/ZTE scandal.

INTRODUCTION


"The Philippine National Broadband Network controversy (or the NBN/ZTE deal, NBN/ZTE mess) is a political affair that centers upon allegations of corruption primarily involving former Commission on Elections (COMELEC) Chairman Benjamin Abalos, First Gentleman Mike Arroyo and Pres. Gloria Macapagal-Arroyo regarding the proposed government-managed National Broadband Network (NBN) for the Philippines and the awarding of its construction to the Chinese firm Zhong Xing Telecommunication Equipment Company Limited (ZTE), a telecommunications and networking equipment provider."

This political affair has flared up so much that it has resulted in the resignation of Benjamin Abalos as COMELEC chairman, the alleged bribery of congressmen and provincial governors (dubbed as "Bribery in the Palace"), the unseating of Jose de Venecia, Jr. as House Speaker, and the alleged "kidnapping" of designated National Economic and Development Authority (NEDA) consultant-turned-NBN/ZTE witness Rodolfo Noel Lozada, Jr.

CAUSES


It all began with the back-and-forth trips of Abalos, Mike Arroyo, and the President Mrs. Arroyo to China in order to broker a deal with ZTE, which ultimately led to a US$ 329.5 million contract for a national broadband network (NBN) that will improve government communications capabilities.

Public suspicion erupted when Congressman Carlos Padilla hinted in a privilege speech that Abalos went to China to broker a deal for the NBN project. The following day, Abalos denied brokering for the NBN project, although he did admit going to China four times.

"On September 5, Senator Aquilino Pimentel called for a Senate investigation about the NBN project. As a result, three committees held joint hearings about the issue: the Accountability of Public Officers & Investigations (aka the Blue Ribbon Committee) headed by Alan Peter Cayetano, the National Defense and Security committee headed by Rodolfo Biazon and the Trade and Commerce committee headed by Mar Roxas."

SENATE INVESTIGATIONS

DE VENECIA'S TESTIMONY


Jose "Joey" de Venecia III, son of House Speaker Jose de Venecia, Jr. and president of Amsterdam Holdings, Inc. (AHI), the company that lost its bid to ZTE for the NBN project, testified on September 10, stating that he witnessed firsthand Abalos "demand money" from ZTE officials. He went on to testify on September 18 that Mike Arroyo, President Gloria Macapagal-Arroyo's husband, personally told him to "back off" from pursuing the NBN project.

And then the mess began. The Supreme Court of the Philippines placed a temporary restraining order on the contract with ZTE, while Congressman Padilla sued DOTC and ZTE officials of violating the Anti-Graft and Corrupt Practices Act, the Telecommunications Policy Act, the Build-Operate-Transfer (BOT) Act and the Government Procurement Act at the Office of the Ombudsman. On September 22, 2007, president Arroyo followed suit and suspended the broadband contract with ZTE after the bribery scandal sparked major problems in the government.

NERI'S TESTIMONY AND ABALOS' RESIGNATION


On September 26, 2007, Former National Economic and Development Authority (NEDA) Chairman (now Commission on Higher Education Chairman) Romulo Neri testified that Abalos told him "Sec, may 200 ka dito" ("Secretary, you have 200 [million PHP] in this) while playing golf at Wack Wack Golf Club; they had been discussing the ZTE deal at that time. Abalos denied making the apparent bribe attempt, but he announced his resignation as COMELEC chairman on October 1; Resurreccion Borra succeeded him as COMELEC chairman.

BRIBERY IN THE PALACE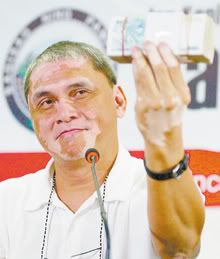 Amidst governmental problems and corruption allegations, President Arroyo held a meeting at Malacanang Palace with officials of local governments, in what seemed to be an attempt to buy support.

"On October 13, 2007, Pampanga Governor Eduardo 'Among Ed' Tongol Panlilio admitted that a palace staff personally gave him a brown paper gift bag with P500,000 (P1,000 bills in 5 bundles, P100,000 each). Panlilio confessed that money changed hands after the meeting 'because as a priest and a public officer, I should not lie. I believe that since the money came from Malacanang, I also believe it is public money. So I should be accountable for it and transparent about it.' Gloria Macapagal-Arroyo called the meeting with 200 officers of the Union of Local Authorities of the Philippines (Ulap), an organization of governors, mayors and other local officials. It was held after Mrs. Arroyo met 190 congressmen, where envelopes of P200,000 and P500,000 were distributed. Cebu Rep. Antonio Cuenco confirmed he was given P200,000 as 'Christmas gift.'

On December 22, 2007, Gloria Macapagal-Arroyo and Panlilio exchanged peace signs but never talked at the 4 a.m. pre-Christmas Mass at the Metropolitan cathedral. Arroyo and Panlilio, with San Fernando City Archbishop Paciano Aniceto seated between them, never communicated even in private in the entire 30 minutes together."

TRILLANES AND THE STANDOFF AT MANILA PEN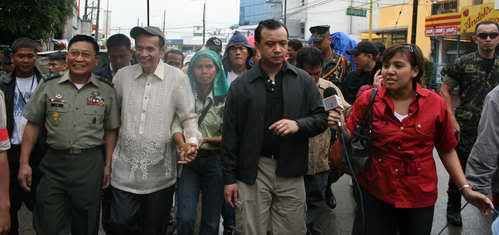 Fueled by frustration with the ongoing flagrant corruption in the administration as well as the Arroyo government's actions to remove his privileges as a Senator by keeping him behind bars, on November 29, 2007, detained Senator of the Republic of the Philippines Antonio Fuentes Trillanes IV as well as General Lim, Capt. Faeldon and other Magdalo officials walked out of their trial at Makati Regional for the 2003 Oakwood Mutiny and triggered a standoff at the Peninsula Manila hotel in Makati City, where he called for President Gloria Macapagal-Arroyo's ouster. The coup d'etat was a failure though and resulted in their arrest. Antonio Trillanes IV and General Lim were placed under maximum security in Camp Crame.

"It's clear that the actions of these few desperate men reveal just how out of touch they are with the hopes and dreams of the average Filipino," President Arroyo said regarding the actions of Triilanes and the Magdalo soldiers. But ironically, President Arroyo also described herself in that statement.

UNSEATING OF DE VENECIA


"House Speaker de Venecia lost a motion of confidence vote on February 5, which unseated him as House Speaker; his partymate at Lakas-CMD, Prospero Nograles of Davao City, succeeded him as speaker."

Before the motion was submitted to a vote, De Venecia delivered a speech before the House where he criticized President Gloria Macapagal-Arroyo and alleged that her government was behind the move to oust him from the Speakership.

He recounted the times he had stood to defend President Arroyo, and said, "It pains me grievously to hurt the President and to hurt the First Family because I have invested so much more than any of you in this chamber to help the President become Vice President, become President…." Shortly after his remarks, de Venecia acknowledged to reporters: "I will join the opposition to denounce corruption in this administration. I will join the battle against corruption."

During his speech at the House plenary, de Venecia said that three military generals visited his house. They were accompanied by Raul Lambino.

"General Santos, commanding general of the Philippine Army, commander of the United Nations Forces in East Timor, came to my house accompanied by Attorney Raul Lambino, who is his friend, and who is also my friend, and he said, 'Mr. Speaker you and your son [should] keep quiet because they want to kill you and I know they can kill you and I know they have killed other people," said de Venecia.

De Venecia's son reported the incident to the Makati City police. The Speaker, meanwhile, wrote a letter to President Arroyo to ask her to do something about the threat on their lives.

"My son reported this to the Makati Police and in the same day following, General Santos, such a respected general of the Armed Forces, changed his tune and said he never said such a thing. How could he say that he never said such a thing when he came to my house to ask me to listen to his story, accompanied by Raul Lambino in the presence of my son Joey, in the presence of my wife Gina."

The Speaker said he asked Mrs. Arroyo in a letter to "please do something."

"So I wrote a letter to President Gloria Macapagal-Arroyo. Dear Madam President, I write to you because General Santos came to see me and said to me, and confessed to me that they wanted to kill myself and my son and that they have killed other people. I asked you because these three generals belonged to your government, please do something. That was late October of last year. Do you think up to know Malacanang has lifted a finger to arrest or to investigate these attempts on my life and of my son?" he said.

"It's simple arrogance. Just plain arrogance that Malacañang and the people of the Palace are above the law. Someday this can happen to you," he said. The speech was delivered hours after Palawan 2nd District Rep. Abraham Kahlil Mitra, An ally of Davao City Rep. Prospero Nograles, moved the speaker's position be declared vacant.

LOZADA'S KIDNAPPING AND TESTIMONY


Rodolfo Noel Imperial Lozada, Jr. or popularly known as Jun Lozada is the former President of the Philippine Forest Corporation, under then Department of Environment and Natural Resources and the star witness of the ZTE scandal.

"On January 30, 2008, the Senate produced warrants of arrest to Neri and Rodolfo 'Jun' Lozada, Jr., former chief executive officer of the government-run Philippine Forest Corporation and a consultant of the NEDA. Neri then went into hiding while Lozada skipped the Senate hearing and went to Hong Kong.

On February 5, as the Senate arresting team waited on the Ninoy Aquino International Airport (NAIA) on Lozada's arrival, Lozada was taken by unidentified people 'out of town' and Lozada's kin appealed for help on his whereabouts. On February 7, Lozada finally surfaced as police took him to La Salle Green Hills, Mandaluyong City. Lozada linked Mike Arroyo and Abalos to the ZTE scandal. On the same day, the Supreme Court stopped the Senate from arresting Neri, ordering a status quo; Neri then resurfaced after the threat of arrest was taken off."

The next day, on a Philippine Senate hearing, Lozada confirmed his NEDA boss Romulo Neri's testimony that Commission on Elections (COMELEC) chairman Benjamin Abalos and Arroyo's husband Mike Arroyo were behind the kickbacks in the deal. Lozada's statement was made after he was supposedly "abducted" on the orders of DENR secretary Lito Atienza, Neri, former Presidential Management Staff head Michael Defensor, Secretary for Special Concerns Remedios Poblador, and Deputy Executive Secretary Manuel Gaite.

On February 11, upon continuation of Senate hearings, the government denied on kidnapping Lozada. Lozada claimed he was driven around Metro Manila and even reached Los Baños, Laguna, before he was transported to the La Salle Green Hills seminary. According to DENR Secretary Atienza, Lozada (who is his boss), asked for his help as "he feared for his life" as he returned from Hong Kong.

However, speculations have risen that the abduction was a setup made by Arroyo's administration to cover up links connecting them to the scandal and to prevent Lozada from testifying at the Senate inquiry on the anomalous NBN deal.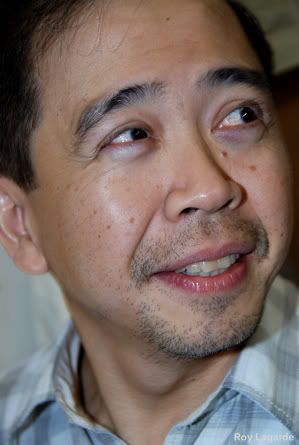 In fact, Lozada claimed President Gloria Macapagal-Arroyo and her husband were "likely" involved in an alleged attempt to buy him off. He said the indirect offer was made by former Presidential Chief of Staff Michael Defensor when he was transported to the La Salle Green Hills seminary. Defensor, Lozada said, asked him to call a press conference and to deny that he was kidnapped. Lozada also stated that Defensor asked him to tell the media that he is not involved in the controversy. Lozada said no specific amounts were mentioned to keep him quiet, but he did say that the offer was apart from the P200 million bribe allegedly offered by Abalos to Romulo Neri, and that it was also apart from the P500,000 he got from Deputy Executive Secretary Manuel Gaite and the P50,000 which Defensor had already given him.

The P500,000 he got from Manuel Gaite was supposedly for "help" as Gaite stated that Lozada requested it since he had no winter clothes and was running out of funds. Gaite went on to insist that no public funds were involved. Lozada claimed, however, that the money was intended to keep him from testifying on the alleged corruption surrounding the controversial deal, and that he had been sent to Hong Kong to prevent him from appearing at an earlier Senate hearing.

Joey de Venecia later claimed that ZTE advanced USD 1 million to Abalos; senators pointed out that this qualifies as "plunder" under Philippine criminal law since the advance was given when the foreign exchange was at about PHP 50 to $1, thus equaling the PHP 50 million floor for plunder.

OMBUDSMAN CASES

"The Office of the Ombudsman subpoenaed First Gentleman Mike Arroyo, Neri, the de Venecias and Abalos to hear their side of the story. The case was filed by former vice president Teofisto Guingona, Jr., several lawyers, Fr. Jose Dizon and party-list Representatives Joel Villanueva and Ana Theresia Hontiveros-Baraquel, among others."

REACTIONS AND CALLS FOR ARROYO'S RESIGNATION


After the Lozada testimony, several sectors and prominent people such as Joey de Venecia and senator Panfilo Lacson called for president Arroyo's resignation, while Senate President Manuel Villar and senator Alan Peter Cayetano called for a leave of absence. Vice President Noli de Castro on the other hand, asked President Arroyo and other government officials "should be charged" if they would be found directly involved in the alleged anomalies.

On February 12, the Makati Business Club and other about 80 groups called for Arroyo's resignation.

An estimated 10,000 people held a protest rally in front of Ninoy Aquino statue in Makati City to demand the resignation of Arroyo in February 15. More than 4,000 including former President Corazon Aquino and Lozada attended the Sunday mass at the La Salle Green Hills' St. Benilde Gymnasium.

Malacañang, however, dismisses calls for Arroyo to resign.

The Armed Forces of the Philippines is on continuous high alert due to government instability, anti-Arroyo rallies, and alleged communist rebel plans to infiltrate protests to demand Arroyo's resignation over corruption charges.

US SUPPORT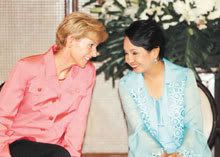 The United States is "watching with great interest" the unfolding political crisis in the country triggered by the allegedly graft-tainted national broadband network (NBN) contract, American Ambassador Kristie Kenney said Tuesday.

Kenney goes on to convey the United States' full support for Arroyo and the Philippine government as she has stated in the past. "Washington will continue to 'remain a very, very strong ally'
of Arroyo, who is President George W. Bush's key ally in the Southeast Asian theatre of the US-led 'war on terror'; We want this country to move forward."

Indeed, Arroyo is Bush's key ally in Southeast Asia as she deliberately follows his footsteps and as they both go into history books living on in infamy.

UNRAVELING THE TANGLED WEB AND CATCHING THE SPIDER


In the words of her ex-Ateneo colleagues who expressed anger over the administration's purported penchant for forging secret deals and voiced outrage at the apparent cover-up in the corruption-tainted National Broadband Network (NBN) project, it is definitely time for President Gloria Macapagal-Arroyo, to squarely address the corruption charges, or resign. The Philippine nation has suffered more than enough from her crooked, unlawful doings.

The administration also needs to lift the "cloak of Executive Order No. 464" and stop invoking executive privilege in order to allow public officials knowledgeable about the NBN deal to testify at the Senate.

Arroyo's ex-colleagues also expressed dismay over Lozada's revelations that former elections chief Benjamin Abalos Sr., "with the alleged involvement of First Gentleman Jose Miguel Arroyo," tried to apportion a $130-million commission for himself from the $329-million project. They said the amount was sufficient to fill the annual classroom backlog, or to buy 5.8 million sacks of rice.

The professors assailed the Arroyo administration for "forging secret deals and engaging in nontransparent processes in developing and contracting large infrastructure projects, especially foreign donor-funded programs, contrary to the tenets of good governance."

"We are dismayed that Mrs. Arroyo has not exercised the vast powers and resources available to the presidency to ensure that large-scale corruption in the government is not only blocked but also punished, and that these irregularities have only increased political instability and uncertainty in the country," they said.

Instead, we are finding that the president is utilizing her executive powers to perform corrupt acts and to hide it from the public to ensure her immunity to punishment. Arroyo has scolded rebels in the past for their egotistic thinking that they are above the law, but yet again, the president is ironically only preaching about her own mindset.

In Arroyo's words, she ordered the Department of Justice to ensure that its investigation was fair, truthful and unbiased, and to conclude it as soon as possible "so that the truth would come out and justice prevail." She also directed the Department of Justice and the Office of the Ombudsman to report on the results of their separate investigations, "so that the people would be able to judge whether the process was truthful and done with justice, and so that they can file a complaint if they see any irregularity."


I could not agree more with President Arroyo; I just hope she meant what she said. It is now up to the Filipino people and for those in power to follow up on the aforementioned statements and make them reality. Filipinos have made the mistake of allowing corrupt politicians to gain power time and time again, and now they find themselves in such a situation once more. I hope they can pull through, as the time is critical to do what is right and lawful and continue with the investigations and bring positive change and stability to the nation now.


References:
Wikipedia
Inquirer
GMA News
ABS-CBN News Interactive