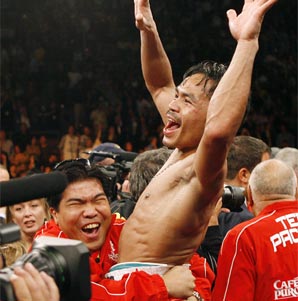 Although not being able to see the fight on pay-per-view television, I was able to read about the Manny "Pacman" Pacquiao vs. Juan Manuel Marquez rematch online. Apparently it was a close fight (coming down to a difference of one point on one judge's scorecard), but the outcome was crystal clear nonetheless as Pacquiao rejoiced in triumph after being declared the new Super Featherweight Champion after edging out Marquez through 12 rounds in the rematch. But that comes short of painting the whole picture.

This is one of the brief moments in Philippine history where our torn and frayed nation comes together as one. This is a time when all of us around the world instinctively unite and perhaps briefly sense that no matter how tattered the Philippines may be, we are still bound together as Filipinos.

Indeed, what a glorious occasion this is. Along with seeing Manny raised in victory, I felt the spirits of Filipinos around the world being lifted with him. And to think that only one man prompted all this, it truly is amazing.

Manny will continue to get his people's praise as he deserves. Festivities will ensue upon his homecoming, and everyone will have a spring in their step. If only the feeling lasted, right? But soon the ecstasy will fade. And even though the thrill subsides, we need not worry because it seems that during these times the Philippines is in need of more Filipino "heroes," and so the feeling will reappear once again with another Pacquiao fight or with someone else who wins the heart of the nation.

And even as the pace and nature of each Filipino's life returns and as paths diverge once more, our torn and frayed Philippines will still be bound by that single string--our pride of being Filipino.