That's the buzz in the boxing arena. A fight between Manny "Pacman" Pacquiao and Oscar "The Golden Boy" De La Hoya though, may not be as much of a fantasy as some may think.

The idea was first brought on by boxing broadcaster Larry Merchant, who now calls the match "somewhere between a possibility and a probability." And the chances of the fight materializing will increase should both fighters win their next couple of bouts.

David Diaz may be the next opponent for Pacquiao in June. Diaz, a former Olympian, who was also on the Saturday night card of Pacquiao-Marquez II at Mandalay Bay, won a 10-round decision against Ramon Montano, one of Pacquiao's sparring partners.

Following that, Pacquiao may have a match with Ricky Hatton, or perhaps go directly to a bout with De La Hoya.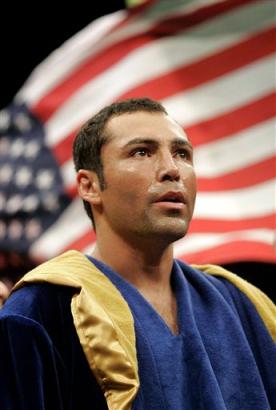 For De La Hoya, who says he wants three more fights before retiring, would need to beat Steve Forbes in May and win a rematch against Floyd Mayweather Jr. probably in September.

Should this match-up become a reality, it would be the younger and maybe quicker Pacquiao fighting the older and bigger De La Hoya. Pacquiao, 29, is a much smaller man, fighting Saturday at 130 and fighting as recently as 1999 at 113. De LaHoya will fight Forbes at a contractual 149, with a pound plus or minus allowed at weigh-in, and seems most comfortable at 154.

Since De La Hoya, who has usually handled smaller fighters easily, is not likely to come down much below 147, Pacquiao might fight with a weight discrepancy of about eight or more pounds, which may actually significantly pull down his speed due to the extra weight.

This fight is still a few bouts away, should it happen. But if the people want it, and the management sets it up, and the fighters step up to the plate, then it's bound to happen. And such a spectacular occasion when boxing stars like Pacquiao and De La Hoya collide will certainly produce a mega fight people will flock to see.

Reference:
Los Angeles Times